Final Hearing: Giving Evidence
By: Lorna Elliott LLB (hons), Barrister - Updated: 22 Nov 2012
|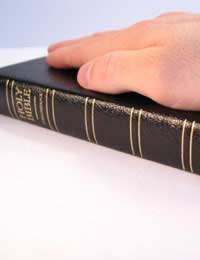 Although a small claims hearing is less formal than other types of civil hearings, there are certain things you can do to portray yourself as calm, in control and most importantly consistent in terms of your version of events.
As the majority of people represent themselves in the small claims court (legal costs can be prohibitive in comparison to the amount of money at stake) it can be easy to become angry or upset at what the other person is saying about you, especially if you vehemently disagree.
If tempers are running high it can be tempting to shout, exaggerate or descend into a 'slanging match.' The judge can stop questioning if he or she thinks the evidence being given is not assisting the proceedings.
Questions
The questioning in the small claims court is not like the type of rigorous 'cross-examination' that you will see in TV dramas or films. As people are representing themselves, they get an opportunity to tell the judge their side of the story as well as being able to ask the other person questions too. However, the hearing is not an opportunity to have a moan about the other side (be they claimant or defendant).
Stay in Control
The judge will talk you through the procedure of the hearing and will prompt you when it is your turn to speak. The claimant gives evidence first, followed by the defendant. There is a right to reply to evidence given by each party. Although it may be tempting to do so, it is much better not to interrupt the other side when they are speaking.
Remind yourself that you will have the opportunity to speak and to respond to what is being said. Interrupting the other side (or shouting 'objection' - which is never appropriate in the UK) will make you seem discourteous and will be likely to make you unpopular with the judge deciding your case.
The Sequence of Events
When you are giving your evidence, try to make sure that you start chronologically. It may be tempting if you are the defendant to pick up on something the claimant has said that has particularly incensed you and to start with this. However, one trick is to make sure you have familiarized yourself with all the facts beforehand, either by writing them down, reviewing your statement or going over it in your head.
It is always important to tell the factual truth and not to exaggerate, as this will have the effect of reducing the legitimacy and credibility of your side of the story.
Don't Exaggerate
Judges hear cases day in, day out – and are good at spotting exaggeration or fluff from facts. Allowances are made for people who are nervous, lack confidence or who feel intimidated, but this will probably not be the case for those who are disruptive or rude. Remember, the most important thing to do is ensure that you are prepared for the case. The more prepared you are, the more confident you will feel and the more natural you will seem!
ABOUT SMALL CLAIMS IS FOR SALE:
This website is for sale [more info].
You might also like...