Format for Self Employed Contract of Hire?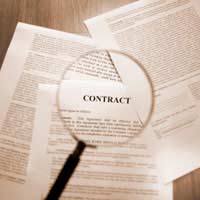 Q.I have 2 questions if this is possible - my young daughter has a claim made against her. 1. Does a Contract of hire of Services have to be signed by both parties with both parties having a copy and does it need to contain the name of both parties? 2. If you are hired as a self employed person is there any particular format for the contract. This contract has also been quoted by the claimant also as an 'agreement of hire' how binding are these contracts?
(Mrs Geraldine Mckechnie, 12 September 2008)

A.
Question 1
A contract of hire of service – like any contract – may be written, verbal or a combination of the two. If you employ a neighbour to do some cleaning for you once a week, you may not have anything in writing but you will have entered into a contract of hire.
It would certainly be usual for a written contract to be signed by both parties and for the parties to be named in it. For any type of written contract you would expect the contract to identify:
The parties to the contract;
What the parties have agreed to do;
What payment or other remuneration is due under the contract.
If a small claims case has been issued on the basis of a contract, the court will consider any written documents. However, if the claimant produces a written contract which does not name your daughter and / or is not signed by her, the court will take those facts into account when considering the evidential value of that document. The court would not assume that an unsigned document represented a binding contract between the parties.
A signed contract would not necessarily be invalid simply because one party did not have a copy. In the case of an employed contract (rather than one engaging the services of a self-employed person) the employee should usually, however, be provided with a written statement setting out the terms of employment if these are not contained in a written contract.
If the claimant is relying on an unsigned contract they may be arguing that it represents the terms verbally agreed between themselves and your daughter. In a small claims case based on a contract of hire of service it would then be a matter for the judge to decide whether he believes what the claimant says or what your daughter says.
Question 2
It follows from the fact that a contract for hire of services can be written or verbal that there is no standard format. In the case of a self-employed contract the hirer will have fewer legal responsibilities towards the person being hired than they would be towards an employed person.
"Agreement of hire" is just another way of saying contact of hire. In legal terms the words contract and agreement mean the same thing. For an agreement or contract to be legally binding three elements are required:
Offer – one party makes an offer to the other party;
Acceptance – the other party accepts that offer;
"Consideration" – something of value passes between the parties. In many cases this will be money but it need not be.
In simple terms, if the claimant asked your daughter to provide a service for them, she agreed to provide a service and they agreed to pay her for that service there would be a binding contract regardless of whether anything was signed or written down. However, what is binding will always depend on the particular circumstances of each case.
You might also like...
What advise is there for this particular situation. A person attends a training course for a self contracting job. They are discriminated and witheld from the course. The trainer then intimidates the person an forces them to sign a contract. The contract fines them £50 for every job they cannot complete, yet they havent accessed the training so they are fined continuously. The person becomes ill for two days and is dismissed from the contract by email. The business then files a claim for all the charges they unfairly gave to them. You are unable to get legal advise, citizens advise was 'tough' you shouldnt sign the contract. you report it to the minimum wage people which means you cannot go to tribunal. It is unfair as you have no money and cannot afford to dispute this as it can lead to serious court costs if a big employer is involved. How can you dispute this as there is no paper trail but there is a very unfair contract which could cost a fortune to address legally through the small claims court.
jbug2
- 11-Jan-17 @ 4:02 PM