Court Conduct and Behaviour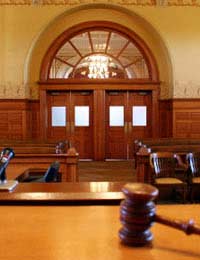 There are going to be one hundred and one things running trough your head as soon as you receive your court date, all clamouring for attention and a space on the priority list. The last thing that you want to do is get there and not give the right impression to the court. This is a guide for what to do before and during your case ensuring you can direct your energies into presenting the case to the best of your ability, conducting yourself well, and creating the right impression.
Before court
Before you even get to court preparation for presentation starts here. Think about what you need to say and how it is going to be organised. Write a plan and then re-write it. Read some of the articles on preparation of your case to make you feel confident in yourself and your material. If you are going to be representing yourself you will want, and need, things to run smoothly for the court and your benefit.
It is always worth investing some time in creating your 'court bundle'. Lists of questions you need to ask, exhibits, photos, and everything you need to help you with your case. The last thing you want to be doing when you are nervous is spending your time flicking through piles of paperwork to find the one thing you know you had your hand on two seconds previously. Paginate and sort your bundle so that you can turn to evidence easily, dividers are very useful to do this. Have copies of the most important photos / receipts so that when you get to court you can hand them to the Judge and your opponent (do remember to hang on to one yourself!) so you can refer to them with ease whilst questions are asked.
Transport to and from court is important to think about in advance. If you think you are not going to be able to drive yourself safely, find someone who can. If you know you are going to be able to drive or take yourself on public transport get the directions to the court beforehand and either write or print them out so you can get yourself there in good time. You will not be able to present yourself well if you are flustered because you are late. First impressions are always important, and it sounds obvious, but smart clothes and shoes do help, suits are good to create this impression but not essential.
Just before you get in!
Last minute checklist:
Do you know where your court is?
Have you got your documents and / or any witnesses?
Have you met with your opponent? Settling at the door of court is not unusual.
Bottle of water, just in case!
During the hearing
Being in court is nerve wracking and mind-bendingly frustrating, trying to persuade someone that, according to you, they are wrong is hard. It is not going to be easy and people will not just accept what you say blindly. You have to be careful with your questioning and establish that on the balance of probabilities what you are presenting is more plausible than what they are saying is the truth. If you have prepared well you will present yourself well.
Cross-examination of your opponent is not the time to get frustrated and irritated. You will present your case more cleanly and clearly by remaining calm and building up to you final point in a series of questions. There is guidance on how to question people on here. If you find yourself raising your voice or asking the same question again to try and elicit a different answer, take a deep breath and a drink of water and then move on.
Listen to what the Judge is saying to you in court. They are there to help you get to the bottom of what the case is about and to reach a resolution as best as they are able. If they are asking you a question, answer them as best as you can and keep to the question, try not to stray off into a long explanation, your best points will be lost and you need to make them as clear and as precise as possible.
Remember
Preparation is everything, the more confident you are with your material the more confident you will come across. Listen to what is being said, make notes where appropriate, and keep your cool. If you are unsure about any aspect of your case sort them out before hand and if you need to get advice, then seek it from a professional if you are able.
You might also like...
@Lisa19576- best of lick. Let us know what happens. I work in a salon and am always concerned about the precariousness of my own situation.
PatsyV
- 3-Sep-18 @ 12:41 PM
After 10 years running my own hair salon and rentingthe premises from the same landlord, in Nov 2017 he tried to force me to sign a notice to quit on a No Fault Basis. As I'm protected by the Landlords & Tennants Act I refused to sign the home made notice and started my civil claim against him for the unlawful & unjust eviction & closure of my business. Attended a Summary Judgement Hearing (my application) Thurs 30 Aug & my case is now going to trial! Awaiting Judge's Directions
Lisa19576
- 1-Sep-18 @ 11:05 AM