Standard Directions in the Small Claims Court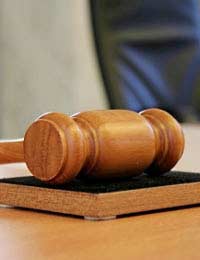 Before any small claims case comes to trial the court will give directions so that the parties know what they have to do to get ready for the final court hearing. The small claims procedure is relatively straightforward. Many parties in small claims cases will be "litigants in person" – non-legally qualified people who represent themselves. Courts take care to ensure that the parties, who may have no knowledge of court procedure, know exactly what they have to do.
Directions in General
The term "directions" refers to any order given by the court which tells the parties, or one party, to do something. As well as telling parties what they have to do to prepare for a court hearing, directions will also tell parties when they must do it by. Sometimes one party will have to do something before another party and sometimes parties must all act simultaneously.
The court has an overriding duty to take an active role in the management of cases - giving directions is a primary tool in this role. Directions may be given at any time. Directions may be made at the request of a party or simply because a judge has looked at the case papers and decided that something needs to be done.
Standard Directions in Small Claims Cases
There are standard directions that apply to many small claims cases. However, a judge dealing with a small claims case has a wide power to add or take away directions if he thinks it appropriate to do so.
The standard directions in small claims cases are:
All parties must file and serve on every other party a copy of all documents which they intend to use at the trial at least 14 days before the final court hearing.
The parties should bring the original documents to the final hearing.
The date on which the hearing will take place and the amount of time it has been allotted by the court.
Encouragement for the parties to reach a settlement of the case before the final hearing and an order that they notify the court immediately if they do.
A reminder that parties cannot rely on expert evidence unless the court has given permission.
A warning that failure to comply with the directions could lead to a case being adjourned and costs being paid by the party at fault.
Filing and Serving of Documents
Almost any document which is to be used in a court hearing must be both filed and served. Judges will often give such a direction without explaining precisely what it means.
Filing – means that a document must be sent to the court;
Serving – means that a document must be sent to the other party or parties.
Court procedure generally means that parties are not allowed to rely on documents that have not been served on the other side. Therefore, a failure to serve a document on other parties in addition to filing it at court could result in a case being adjourned or the document being excluded from the trial.
Hearing Dates for Small Claims Cases
A judge will have decided how long the case is likely to take. For many small claims cases this is unlikely to be no more than two to three hours. Most courts have more than one small claims case on the same day and several cases will often be listed at the same time. This is because many cases settle before the court hearing and often both sides simply fail to turn up.
When parties in all of the cases listed come to court it can sometimes result a substantial delay in the start of a particular case. Some cases will also take longer than expected. The result is that some small claims cases may be listed to start at 10.00 am but not actually start until several hours later. On a bad day the court may even run out of time completely meaning that a case has to be put off until another day.
You might also like...
I've had to take a solicitor to Court and he's using every Cpr trick in the book. I am elegible for legal aid but can't find a solicitor to represent me so I'm on my own fighting a solicitor, his Barraster and his Insurance company. In his home Court talk about Justice and fair play I don't think so
Celtickenny
- 22-Jan-19 @ 6:35 PM
Once I have made a claim and been issued with a case number, how do I then track the case?
Frustrated
- 24-Aug-13 @ 3:40 PM