Small Business: Going to Court Over a Debt
By: Lorna Elliott LLB (hons), Barrister - Updated: 18 Sep 2012
|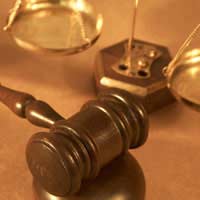 If you are owed money by a customer you may be considering suing to recover your money. However, it is important not simply to issue proceedings whenever a customer or client is slightly late in settling an invoice. Before you resort to lodging a claim in the small claims court you should ensure that you have exhausted all other options.
Have you written to your customer, with a final demand, and provided a timescale within which you should receive payment.? If there is no response, and you consider that the claim is likely to succeed (i.e. that your customer is less likely than you to win) then it may be worth lodging proceedings.
Should You Sue?
Bear in mind that there is no point suing an entity – a sole trader, partnership or company - that has no assets and no money. In these circumstances going to court, obtaining judgment, and trying to enforce that judgment may only end up costing you money. So how can you tell whether your customer is worth suing or not? One easy way is to conduct a search on the Register of Judgments, Orders and Fines to find out whether they have any unpaid judgments. There is a small fee to conduct this search.
Do You Have Time?
Another issue you should consider prior to filling out the claim form is the amount of time the case will take to prepare. If the claim is disputed, or if your customer lodges a counterclaim against you, and you do not settle prior to the final hearing you are likely to spend some time filling in forms, communicating with the court and then attending the final hearing.
Have You Considered the Costs?
In the small claims court, you may not want to use a solicitor because of the costs involved, and the fact that you might not be able to claim the costs of your representation from the other side, even if you win. If you do represent yourself, you will still have to pay a court fee for issuing the claim form, and there are also fees involved if you have to enforce the judgment (if your customer doesn't pay after you obtain judgment.) Even if you think you have a strong case, remember that there are no guarantees you will succeed, recover the court fees or get all the debt repaid.
What Happens After the Claim Form is Issued?
Assuming that you have decided that you have a reasonable prospect of succeeding in your claim against your customer, you lodge proceedings in the county court, under the small claims track. Once you have sent in Form N1 (the claim form), there are four possible outcomes:
Your customer acknowledges service, and lodges a defence. In this case, if the customer has not already paid the case proceeds to final hearing.
Your customer admits that they owe you money, and makes an offer to pay which you accept. You ask the court for judgment on form N205A and the court issues form N30 (1) after it has registered the judgment.
Your customer admits that they owe you the money, offers to pay, but you do not accept the payment. Using form N205A you provide reasons to the court as to why you haven't accepted the offer. The court will then fix the rate at which your customer should pay you and registers judgment, issuing form N30(2).
Your customer does not respond to the claim form. You apply for judgment using form N205A, the court registers the judgment against your customer and issues form N30.
Enforcing the Judgment
If your customer does not pay after judgment has been entered against them, you may decide to enforce the judgment. You may already have information about your customer from cheques they have paid you in the past, bank details from BACS payments etc, but in order to ascertain more about their means you could apply to the court for an Order To Obtain Information.' This does not of itself mean that the customer will begin to pay you money, but will give you a better idea as to how to enforce the judgment. More information on enforcing judgments can be found elsewhere on this site.
You might also like...