How to Apply for an Attachment of Earnings Order
By: Lorna Elliott LLB (hons), Barrister - Updated: 13 May 2019
|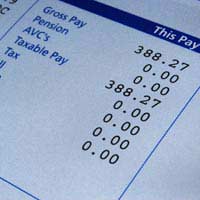 If your debtor is employed, you may consider making an attachment of earnings order. There is no point applying for this kind of order if your debtor is unemployed, for obvious reasons, or if they are self-employed. If you know or have evidence to suggest that they are in employment, it may be the right way to get your money back.
You should bear in mind though that people on a low wage may not earn enough for their employer to be able to pay anything to you, and that using this method of debt recovery does not get you a lump sum payment to clear the debt. If your debtor receives a bonus at certain times of the year, you may instead decide to apply for a third party debt order if you know when this is likely to be.
The Procedure
To apply for an attachment of earnings order, you will need to download a form N337 from the HMCS website. If you are owed money by two debtors in respect of the same debt, for example, two tenants or a married couple, you will need to fill out a separate form for each judgment debtor. Once you have completed the form and sent it to the court with the appropriate fee, the court will then send the judgment debtor form N56. This asks the debtor to supply details such as their name and address, their dependents, the details of their employer, their income and outgoings as well as any other debts and county court judgments that they have. The debtor can also make an offer for payment on this form.
Often, when a judgment debtor realizes that there is a possibility that their employer will find out about their county court judgment and/or financial difficulties, they will try to make an offer of payment so that their employer doesn't have to get involved. Debtors can also ask the court to make a 'suspended attachment of earnings order', which could be granted if, for example, a debtor may lose a promotion, or may lose their job if their employer discovers they are in debt.
If the debtor does not send N56 back to the court within 8 days, they commit an offence. Similarly, if they provide false information on the form N56, this is also a criminal offence. Debtors who fail to send the form back will be served (in person, by a bailiff) with another document requiring them to come to court to declare their financial situation. If the debtor continues to ignore this process, they can be arrested and sent to prison.
Low Wage Debtors
If your debtor earns below a certain amount, called the 'protected rate' of earnings, the court cannot make an attachment of earnings order. The protected rate is generally calculated as the amount the debtor would receive if they were on state benefits, and includes money for essential expenditure such as groceries and housekeeping.
Making The Order
As long as your debtor can afford to have a deduction taken from their earnings, and it is reasonable for the order to be made, the court will make the order. The order will be sent to the debtor and you as the creditor. It is then possible for the judgment debtor to challenge the order if they disagree with it, but must do this within 14 days of receipt of the order. If this happens, there will be a hearing at the debtor's local county court. For more information on an employer's duties in respect of attachment of earnings orders, see the pages elsewhere on this site.
You might also like...
Hi I've currentky got a ccj and a high court writ against the debtor however no luck from this as we can't find his home address. I've got his work address though is this enough to do an attachment of earnings?
Sarah Harris
- 13-May-19 @ 11:17 AM
Hi all, i jjst wondering how we can find if someone who own a money is employed?
sklep
- 23-Oct-18 @ 1:46 PM
I have a tenent in rent arears.Not paid £4500.00.I want to give him notice of attachment of earning notice. I have only his home adress. Not his place at works. how can i fill form n337. with out his adrees of works.
manuully
- 13-Jul-15 @ 4:56 PM