How to Issue a Statutory Demand
By: Lorna Elliott LLB (hons), Barrister - Updated: 17 May 2010
|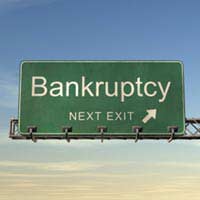 A statutory demand is in effect a 'last chance' for a debtor to pay back the money they owe you before you decide to proceed to making the debtor bankrupt. You do not have to have a county court judgment in order to make a statutory demand, but can issue one for other debts too. You should be aware that bankruptcy is not really a method of debt recovery, but is regarded as an alternative to recovery of debt. This is because issuing bankruptcy proceedings is costly and often time consuming, and should only be undertaken if you think that your debtor is unable to pay their debts.
The Procedure for Issuing a Statutory Demand
A statutory demand is vital if you are intending to make your debtor bankrupt. You issue a statutory demand without having to involve the court. There is no need to give the debtor time to pay, and you can issue a statutory demand as soon as a debt becomes due. If, on receipt of the demand, the debtor disputes it they can apply for it to be set aside if you proceed to bankruptcy. You should ensure that the statutory demand is correctly issued. This is because if you proceed to bankruptcy and the statutory demand is set aside by the court, you as the creditor can be liable for costs.
The forms for issuing a statutory demand are readily available on the Insolvency Service website. There are three forms:
Form 4.1 – a Statutory Demand under section 123(1)(a) or 222(1)(a) of the 1986 Insolvency Act
Form 6.1 – Statutory Demand for a debt of a sum that is payable immediately under section 268(1)(a)
Form 6.2 – Statutory Demand to use for a debt that is a result of a court order or judgment
Beware the Bluff
In nine out of ten cases, a statutory demand is a 'bluff' that creditors send out to scare their debtors into handing over the cash. If you don't intend to start bankruptcy proceedings, it will soon become apparent to your debtor that this is the case (unless you have sufficiently scared them into paying.)
What Happens Once You Issue the Statutory Demand?
The debtor has 21 days from the date of the issue of the statutory demand to pay the debt. If they want to apply for it to be set aside, they must do this within 18 days of the issue of the statutory demand. Of course there is no guarantee that the court will actually set the statutory demand aside, if there are no reasonable grounds upon which to do so. Your debtor may decide to contact you to offer to pay the debt by installments. They may also pay the debt in full, or make you an offer in full and final settlement. You should also be aware that if your debtor pays you some money that reduces the debt to less than £750, this is the threshold below which you will not be able to petition your debtor's bankruptcy.
You might also like...