A Guide to Arbitration and ADR
By: Lorna Elliott LLB (hons), Barrister - Updated: 20 Jul 2020
|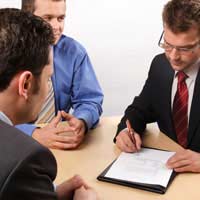 All types of litigation can be costly and although the small claims court is designed for low value claims, it may be that alternative dispute resolution processes are less expensive and can be resolved more quickly than going through the small claims court.
Conciliation
If your dispute is with a trader who belongs to a trade association there may be a scheme that allows you to endeavour to resolve your dispute outside the courts. Conciliation is one such option, which is a way for both parties to discuss the issue between themselves. However, the outcome is not legally binding, and if either party or both parties are dissatisfied with the result they still have the option of going to arbitration or indeed litigation.
Mediation
Eighty per cent of the disputes that go to mediation settle without requiring further discussion. A mediator is a neutral third party who may or may not be legally qualified, and who hears both sides of an argument before encouraging both parties in a dispute to come to a mutual decision. The mediator is not required to make a decision for or on behalf of the parties. Again, mediation is generally seen as a cheaper, quicker and less formal method for solving disputes.
Arbitration
Arbitration is a more formal type of alternative dispute resolution, which is overseen by an independent arbitrator. Often the proceedings are conducted purely on paper, so if you feel that your case would benefit from being argued in person, the small claims court may be a better venue for your dispute.
Advantages of Arbitration
If your dispute is of a highly technical or complicated in nature arbitration can be a good option because arbitrators are often experts in their fields and more easily understand the intricacies of a specialised dispute. Arbitration can be faster, cheaper and more quickly resolved than litigation. Hearings are generally in private, which may be preferential for business disagreements of a confidential nature.
Disadvantages of Arbitration
There is no right to challenge the decision of the arbitrator in court, if you do not agree with their decision. It is therefore very important that you give consideration to the particular circumstances of your dispute before opting for arbitration. Although it is true that arbitration is generally cheaper than litigation, it is not without cost and there may be considerable costs in the event that you lose.
Your Right to Choose Litigation Over Arbitration
If the value of your dispute is not greater than the small claims limit (£5000) you cannot be bound by a contract that states that you must choose arbitration in the event of a dispute – you have the right to choose to go to court if you wish (see Arbitration Act 1996.)
Before embarking on any form of alternative dispute resolution, ensure that you have carefully considered the cost implications of success or failure, whether the proceedings will be held in public or private, and whether your case needs a specialist in the same field to try to help to resolve the issues.
You might also like...
Purchased a vehicle from a motor dealer in February. All of their vehicles are advertised as HPI free and being a large dealership I had no reason to check this. The purchase was made via a garage that I use so they could check the car over. I paid the mechanic the money via bank transfer for him to sort out with the dealership, as the dealership are his clients. The car has now been written off (Separate incident) by insurers and I am unable to receive payment due to the vehicle having a finance marker on it. Who is my claim against...the dealership or the mechanic I paid for the vehicle?
Jamsta
- 20-Jul-20 @ 11:26 AM
In March this year I bought a car off Ebay. The ad offered 3 mths warranty and part exchange so was obviously a trader.It also stated recent service and a host of major repair work.He also had several vehicles for sale as well. I bought said vehicle however on the way home (200 miles) the transmission developed a problem.On checking further the service was done over 12 months ago and the other repairs some 4 yrs prior! I got a headed invoice which He craftily scrawled on "sold as seen". I contacted him the same day to inform him of the problem I was experiencing. I have heard nothing from him since and now his girlfriend is claiming it was a private sale!!!! as her name was in the log book as last owner but has offered £240 towards a £2400 repair bill. This is going to Mediation before proceeding to court.Any Thoughts/Advice welcome
JAM60
- 7-Aug-19 @ 2:12 PM
Hello...I would be grateful for any advice on the following situation I am currently faced with. I rented a small industrial unit for storage of business items and personal belongings - this included two vehicles that I had hoped to work on over the winter months and restore. Previously the two vehicles mentioned were always stored outside and exposed to the elements so I was hoping they would be safer and better protected in a secure unit! After approx. 2 months of trouble free rental the whole complex of buildings was destroyed by a very severe fire leaving all of my belongings and vehicles completely gutted. I should point out at this point that none of the contents including the vehicles were insured. After getting over the shock and sadness of the fire I began to wonder what recourse, if any, I have in relation to making claim against either the landlord/owner of the industrial unit or the individual tenant of the unit in which the fire began. I have obtained a copy of the Fire Brigade report detailing the incident and it mentions that the cause of the fire was due to combustible material being stored too close to an unattended wood burning stove - the outcome of the fire report deems the incident to have been caused accidentally with no malicious intent involved. Any advice or opinions welcomed as to the best way forward with the above would be welcomed. At the moment I am leaning towards pursuing a claim through the small claims court as the value of the items mentioned above are around the £10,000 mark and I do not want to particularly pay expensive solicitor fees which could quite quickly swallow up the amount I have lost. With Thanks for any advice offered. BRG
british racing green
- 11-Feb-18 @ 5:19 PM
i don't know if you can help me, its had been an on going dispute with my now ex housing association with regards to service charges and lack of services. I had emailed them on numerous occasions, taken photos of disputedclaims and tried meeting them to discuss things also, tried mediation, without success Now i am not sure where to turn, as i am no longer the leaseholder of the property because of all the stress this had caused. if you can please advise, i would appropriate it regards Mary
@colmactor - If you have had no joy from your employer then in the first instance, you should raise a written grievance specifying the hours you have worked and the money owed. I suggest you then contact ACAS who will give you further advice. See also the CAB advice on: When and Employer Witholds your Pay, link
here
. If you are self-employed, then you would have to take it through the small claims court. I hope this helps.
AboutSmallClaims
- 24-Jun-15 @ 1:59 PM
employed as an hgv driver for 5 days via agency two weeks ago.worked 12 hrs per day and have just been informed that they are not paying me as complaint against me from first day.what can i do to recover money owed?
colmactor
- 22-Jun-15 @ 12:11 PM