Mediation to Resolve a Small Claims Dispute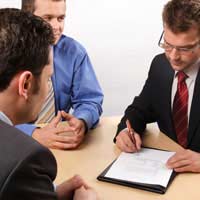 The small claims procedure is designed to ensure that straightforward claims of relatively low financial value can be dealt with quickly and efficiently, and with little danger of either party incurring substantial costs. It is expected that parties will often be litigants in person – individuals with no legal training who prepare and present their own cases.
However, going to court should always be a last resort. There are rarely any guarantees in the legal process and an apparently water-tight case could fall apart, leaving the claimant demoralised and out of pocket. If the amount of money involved is very low it could cost more to bring and pursue the case than will be recovered if the case is won. If the case involves complex legal argument it might not even be suitable for the small claims track.
Alternative Dispute Resolution
There are a number of ways of resolving a dispute other than issuing court proceedings. Alternatives include:
Mediation or conciliation - where an independent mediator helps the parties to reach an agreement about the best way to resolve the dispute;
Arbitration or adjudication – where an independent adjudicator decides how the dispute should be resolved; and
Ombudsmen schemes – ombudsmen are independent and deal with complaints about a particular industry or organisation.
Many of these alternatives, including mediation, may be cheaper, quicker and less acrimonious than going through the courts. The collective name for these is Alternative Dispute Resolution or ADR.
ADR may be appropriate where parties will have an ongoing relationship once the dispute has been settled. In addition ADR is likely to be more flexible, allowing the process to be adapted to fit the circumstances of a particular case. ADR may also be more appropriate where a claimant is not seeking a purely financial remedy but where, for example, they are seeking an explanation or a change in behaviour from the other party.
Mediation
Mediation is a voluntary process so both sides to a dispute have to agree to use it. There are different types of mediation which can be used to resolve a wide range of disputes including:
Community mediation – for problems including boundary disputes and noisy neighbours;
Family Mediation – for problems including division of property and access to children;
Employment mediation – for problems including unfair dismissal, flexible hours and pay.
In some cases where an agreement has been reached through mediation it may be possible to obtain a court order to ensure that all parties comply with it.
If the parties to a dispute have agreed to try mediation the National Mediation Helpline can answer any questions the parties may have about the process and put them in contact with a mediator or mediation service qualified to help with their particular problem.
The Costs of Mediation
If parties chose to resolve a dispute through the services of a mediator it is likely that each side will have to bear his own costs – both of preparing for the case and for the mediator's services. The costs charged by the mediator are likely to depend on, amongst other things, the financial value of the dispute, the amount of time it is likely to take to resolve the dispute and the complexity of the issues involved.
The Small Claims Mediation Service
The Small Claims Mediation Service is a free service specifically aimed at people who already have a small claims case proceeding through the court. A mediator can help resolve most kinds of cases either over the telephone or in person. This service is provided through the courts who will be able to provide further information if parties to small claims litigation wish to try mediation.
Staying Legal Proceedings
Even once legal proceedings have been started it may not be too late to use mediation to settle the dispute. The court will usually grant a stay or suspension of the proceedings for about a month to allow the parties to negotiate or attempt settlement. If the time given is not enough they may extend it if the parties satisfy the court that they are using the time to resolve the dispute.
Parties Who Refuse to Try Mediation
In theory all parties to litigation should actively consider whether mediation, or some other form of ADR, would be a better way of resolving their dispute. Often this rule is not enforced but a judge could order the parties to convince him that going through the county court is the best way of dealing with the claim. In some cases, which might have been better resolved by ADR, the victorious party may not be allowed to recover his costs on the basis that the court proceedings were unnecessary.
You might also like...
I have just come from a CMC where the judge has allowed a Counterclaim from the Defendant and the use of his second expert witness. I feel I have been treated unfairly as my objections were not even heard they just went through the Defendants directions. It is a small claims matter where I am a Litigant in Person but he brought Counsel to the meeting. I need help in the Reply to Counterclaim and also I thought there was a ceiling for costs in the Small claims am I right?
LNZ
- 25-May-19 @ 10:50 AM