What to do About a County Court Judgment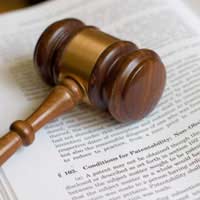 Whenever a county court grants a judgment it is entered on the Register of Judgments, Orders and Fines. It will stay there for six years and will show up in any credit check conducted on the person against whom the county court judgment was entered – or on anyone living at the same address.
Default Judgments and Credit Checks
In some instances the first a person knows that they have a county court judgment registered against them is when they obtain a credit report.
Where there is no reply to a claim form the claimant is entitled to request a default judgment which will be entered on the Register in the same way as any other county court judgment. A county court judgment is not rendered invalid just because the person against whom it was entered never knew about the claim. A valid judgment can be obtained against a person even if all of the court documents were sent to an old address.
A person is not entitled to have a judgment removed or set aside purely because they knew nothing about the proceedings. However, if the claim was sent to the wrong address the judgment may be invalid. The address might be wrong, in legal terms, if:
It never had any connection with the defendant; or,
The claimant was aware that the defendant had left the address and the claimant knew the defendant's new address.
This area of law - service of court documents - can be difficult to grasp. For example, service at an old address is valid even if the claimant knows that the defendant has left it, as long as he does not know the defendant's new address.
To Pay - or Not to Pay - the Judgment
The first question to ask upon discovering that a county court judgment has been entered is whether the judgment is correct. If the debt is owed it should be paid as soon as possible. Depending on the timescale, once a judgment has been paid it may either be removed from the Register or marked satisfied.
Paying the Debt within 28 Days
If a county court judgment is paid in full within 28 days it can be removed from the Register. In practice judgments are not generally registered before the initial 28-day period has expired. If the debt is valid, and affordable, the creditor should be contacted immediately to find out where and how to make payment. When payment is made a receipt should be requested.
The county court where the judgment was entered will provide the necessary application form to have the judgment removed from the Register. Details of the judgment, including the claim number, will be needed - together with written confirmation from the creditor that the debt has been paid. A fee is payable and the application will not be processed until payment of the fee has cleared.
Paying the Debt after 28 Days
If a county court judgment is paid more than 28 days after the judgment was granted, it cannot be removed from the Register and will remain on it for six years. However, if the debt has been paid an application can be made to the county court to have the judgment marked satisfied. The application is made in the same way as an application to have a county court judgment removed from the Register.
What if the Judgment is Incorrect?
If a person discovers that a county court judgment has been entered against them incorrectly they may apply to the court to have it set aside. In order to succeed, such an application must persuade a judge that:
The applicant has a good chance of success if the case proceeds to trial or that there is some other good reason why there should be a trial in the case; and,
The applicant acted promptly in making the application once they found out that judgment had been entered against them.
If an application to set aside the judgment is successful the judgment will be removed from the Register. It is vital that this kind of application is made as soon as is practically possible after the judgment has been discovered.
Searching the Register for County Court Judgments
Anyone can make a search of the Register of Judgments, Orders and Fines. A request must be made directly to the Register of Judgments, Orders and Fines and a fee will be payable. The initial fee is currently £8 to search for one name in the county court judgment section of the Register.
You might also like...
Last year we were granted a CCJ against a car sales company that had taken money from us but not given us the car. We had the bailiffs sent around to the company but they had stopped trading under that name. The bailiffs couldn't do anything. It now transpires that the VAT number on the invoice is under the personal name of the previous owner of the company. He also signed the refund agreement in his personal name. he is still trading on Facebook under his own name. Can we change the name on the CCJ based on this evidence as we cannot take out a new court order for the same claim?
Loevve
- 25-Jun-19 @ 10:31 AM
My TV licence payment maintained 3 months by my wife then TV broken-downmoth later we moved out Landlord fight and police involved move to new property. I purchased new TV license on my name. CCJ issued to former address, 2 years later bailiff entered to my with my wife and children when return from school. We said no knowledge about Bailiff did not received any letter from you or court. I cannot speak good English.Bailiff officers thrown our goods everywhere. one officer stole £210 when I went to stop taken my TV.He pushed me and left me injured. My wife seek help from the neighbors. I offered to pay by card it was rejected. My neighbors paid. What legal right we have?
Mohammed
- 2-Mar-18 @ 1:12 AM
Can anybody help I recently got a ccj against myself however it was my daughters debt but her car was put in my name by mistake as I was on guarantor for car and not the owner please help
Rich
- 28-Feb-18 @ 7:15 PM
Hi, Received a letter from Mortimer Clarke dated 3rd that they would request the court to grant judgement in default/ I've had no letters from MC before this date, the address they hold on file is incorrect, as a result I've not had the opportunity to defend myself or male an arrangement. I don't want a ccj on my file. And I can't afford To have the judgement set aside. Please help.
Hem
- 11-Jan-18 @ 2:11 PM
About a ccj that has sent to me 4 years ago at a address I've never lived at but my own credit report has no ccjs would that be invalid the debt was 10years old
Harriboy
- 6-Nov-17 @ 2:51 PM
I had a CCJ entered against me in July & tried to appeal it but got refused permission in late September. When I lost that I paid the claimant in court in front of the Judge. Does anyone know if the 'pay in 28 days removes the CCJ from credit files' stops while you seek appeal? Does seem harsh if the 28 day rule cannot be stopped while the process runs.
Dave
- 29-Sep-17 @ 4:31 PM
Hi I've just found out I've got two ccj now can they find out where am living as I've moved adress
The guy
- 9-Sep-17 @ 2:18 AM
My siblings and I own a shop which is rented to tenants.the lease is due to be renewed and the tenants solicitor sent us an email confirming the rent , lease , and rent review position. However since then they have issued county court proceedings against us to get the rent and lease, but leaving out the rent review provision. How do we defend ourselves, surely this is a waste of the courts time?
Bun bun
- 11-Jul-17 @ 2:03 PM
I am a Leaseholder of an apartment, I got into arrears with my Service Charge only £280. This followed sickness and redundancy from my work. I told the landlord of my financial sitiation and their Management Co. too. But whilst in contact with them and still paying off the arrears, they sent a County Court summons to the apartment in July 2016. Which has been renting out for 12 years, not only did they know this, but they had my home address on file, since 2005. As well as my address entered incorrectly on the summons, so were the figures and dates of my arrears.AND the Solicitor put the wrong name of (my Landlords) Claimant on the summons. They had to withdraw their claim as it was defective, not only had they not served me the demand correctly on time within 18 months, ie Section 20B.But I never received the Summary of Tenants Rights. Now they ve attached an 'Admin Charge' fir £1100 on my flat, still pursuing me for the court fees, Solicitor's costs and interest.The figure was incorrect, I paid it anyway and was later reimbursed the difference. Please can you tell me if I can take them to court on a counter claim? Thank you.
62AM
- 29-May-17 @ 3:12 PM
A person I know has made a claim against me for a broken phone screen at a party (In which there is no evidence I broke it). However I did feel bad and offered to pay £150 as no one else owned up.He is now trying to claim the full invoice amount (around £225). He has sent the claims form to an old address on my Facebook account (I lived there 7 years ago), he never asked where my current address is before he sent the form. I have been to the property and have been unable to obtain the form as no one answers when I knock. He sent me it by email but it is for reference only. 1) if I ignore the order will the claim still be able to go ahead as it has not reached me? 2) given the nature of the case would a CCJ be even considered against myself as I have no duty of care towards his phone whatsoever?
Deputydubz
- 5-May-17 @ 6:49 PM
I won a county court judgement against a person. However I've got a feeling they have moved address without telling the court. If they changed address, do they have to notify the court? Just because I want to enforce it to high court so I can get my money back.
Becky246xx
- 24-Apr-17 @ 9:50 PM
Shellie - Your Question:
Hi there,I began to receive letters that were not for me, so I posted the letter back to the sender informing them that the person did not live at my address, however the last letter I opened, and it stated that it was a county court Judgement for £1000, and that if it was not paid within 10 day, that the bailiffs would be around my house to take items if the amount was not paid. What can I do, do I have any rights.Kind RegardsMichelle
---
Our Response:
You need to contact the baliffs and explain the situation. You will be safe from a CCJ appearing at your address as credit checks are now carried out on people, not addresses. While it is considered illegal to open another person's mail - nothing will happen to you regarding this as you are not acting to detriment of the addressee.
AboutSmallClaims
- 16-Mar-17 @ 10:06 AM
Hi there, I began to receive letters that were not for me, so I posted the letter back to the sender informing them that the person did not live at my address, however the last letter I opened, and it stated that it was a county court Judgement for £1000, and that if it was not paid within 10 day, that the bailiffs would be around my house to take items ifthe amount was not paid. What can I do, do I have any rights. Kind Regards Michelle
Shellie
- 15-Mar-17 @ 2:31 AM
Al - Your Question:
I have just searched and discovered I have an unsatified ccj from 2012. How do I find out who the creditor is to resolve this??
---
Our Response:
If you order a copy of your credit report, you will be able to find what court the CCJ was issued at and your case number. You should then contact the court directly in order to either pay off or apply to have the debt set aside. If you do not wish to challenge the debt, you will be able to pay the debt off directly.
AboutSmallClaims
- 3-Feb-17 @ 10:52 AM
I have just searched and discovered I have an unsatified ccj from 2012. How do I find out who the creditor is to resolve this??
I have a CCJ against a garage for damage to my car, but am having issues getting it enforced, and have been advised to get this changed to **** t/a **** garage instead of just the garage name, however the judge is asking for evidence as to why, but I have no idea what to send, any advice?
SHJ
- 23-Jan-17 @ 5:16 PM
Hi . I have very recently had a ccj awarded against me for legal aid contribution towards my conviction . This took the form of a charging order against my house and will accrue interest every 6 months until paid . The court keeps sending paperwork to the prison 4 months after my release of a 12 week sentence therefore i dont get the paperwork in time . I have not been given any opportunity to pay in installments at any time and the judge never mentioned any costs being awarded to the legal aid board . In fact my solicitors / barristers never mentioned anything about this charge and i was entitled to legal aid . Even though no forms were ever filled out by me for legal aid apart from the first representation at the police station . Do i have an option of paying in installments ? And is it legal / lawful for them to do this without offering me this option before issuing a ccj and a charge with interest .
Sinbad
- 16-Jan-17 @ 1:47 PM
@Boots - you may find our partner article: Get a Court Judgment Taken Off the CCJ Register, of interest. It will advise you what to do if there are unfair or incorrect CCJs recorded against you
here
. I hope this helps.
AboutSmallClaims
- 27-Jul-15 @ 12:22 PM
Have just discovered a Ccj against my name and my husbands after applying for a mortgage. We knew nothing about it and it's now 3 years old, the address assigned to the case is wrong, right road, completely different post code and we have had no post informing us of amount, court date etc. We think it may be a service charge from 2007 when we moved althoughthe Ccj went into effect in 2011! What can we do?
Boots
- 24-Jul-15 @ 4:51 PM
My ex tenants are threatening me with court action over their deposit. They know I am not a UK resident and they have my address in Argentina. Are they allowed to serve papers at an address at which I am no longer associated with even thought they know I cannot access the court papers or defend myself?
clem fandango
- 23-Jul-15 @ 1:39 AM
@XB - In addition to the information in the article, I have included an extra gov.uk link: 'driving fines and letters when you don't own the vehicle', link
here
which should tell you all you need to know. I hope this helps.
AboutSmallClaims
- 26-Jun-15 @ 1:44 PM
I have been having trouble with local council with regard to a parking fine on a vehicle I no longer own. Unfortunately the council will not accept this, although I have provided an acknowledgement from the DVLA. I have now received an unpaid penalty charge notice stating that my case is to be registered as a debt at the county court. Do I have the right to represent my case at the county court?
@victoria c - if you already have the court order then the court should be able to enforce the payment regardless. If they have refused to pay you can then take it back to court to enforce the judgement.
Tim
- 7-Apr-15 @ 11:07 AM
Quick question, we have a county court order against a car sales man. When we purchased the car the company didn't have ltd in the title, once we purchased the car he went limited. But obviously we had paperwork stating the original name. We won the case which he still owes us over £8000, but could not get the money as all his stock is now in the companies ltd name. My question is can we take it back to court to change name. ?. Probably not but its worth a go. Sorry if it was a bit of a rambled message.
victoria c
- 3-Apr-15 @ 11:51 AM
@Dave - I'd point it out, either write to the court, I don't think there is much point in trying to 'buy time' - the errors are not going to make any difference to your case.
Kat
- 30-Jan-15 @ 2:02 PM
Can someone advise me? I had an order for possession (rent arrears) made against me on a date in January in a local county court.I received a copy of the judgement today.It contains 3 errors of fact: (1) it sates that my wife was heard in person, in fact it was me, she didn't attend court; (2) it gives the possession date as the hearing date and not the hearing date plus 14 days as it should; (3) it details the costs against me including rent arrears but give an incorrect total (in excess by 90) My questions are; (a) is it my responsibility to go back to the court and point out the errors? (b) can the landlord now apply for a warrant of possession based on the incorrect documentation? (c) is it in my interest to keep my mouth shut about it and hope that no one else notices it thereby buying time for any eviction process? This is quite urgent as the 14 days is almost up!! Thanks in advance.
Dave
- 29-Jan-15 @ 4:33 PM