How to Make a Claim in Court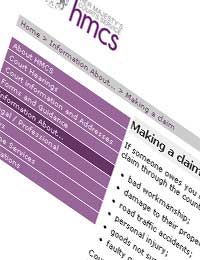 Being owed money by someone can become an all-consuming frustration. You know you are in the right, you have tried to be reasonable and yet being reasonable has got you nowhere. If all else has failed it may be that the only thing left is to take them to court.
Going to court should always be treated as a last resort. Before starting a claim against someone the following questions should be considered:
Have I really exhausted all other possibilities? In addition to negotiating – or trying to negotiate - with the person or company who is at fault there are alternatives to the courts such as mediation and schemes run by industry ombudsmen.
If I win will the other side pay me the money I am owed? If the other party has disappeared or is bankrupt a victory in court may amount to no more than a matter of principal.
Is my case suitable for the small claims track? If the case is worth more than £5000 or will include complicated legal arguments the answer may be no, meaning that considerable legal fees could be incurred.
Am I entitled to Legal Aid? The availability of Legal Aid is now extremely restricted in civil cases. Most people issuing a claim will find that they are not entitled to any financial assistance.
Do I Have to Do Anything Before Starting a Claim?
Anyone considering going to court should already have done everything they reasonably could to reach an agreement with the other side before starting a claim. In addition, for some types of cases, special "pre-action protocols" apply. For example, claims for personal injury, professional negligence and disrepair of housing all have pre-action protocols. Whilst failure to follow a protocol may not be fatal to a claim, it may have an impact on the amount of damages or costs that a court is prepared to allow – even if the claimant wins the case.
Making a Claim
All claims are started in the same way. A claim form is filled in by the person starting the case or by their solicitor if they have one. The claim form sets out:
the parties involved in the case;
a brief summary of the nature of the dispute;
the value of the claim;
any interest or costs which are being sought.
Some types of cases have slightly different claim forms.
Claim forms can be obtained from any county court or can be downloaded from Her Majesty's Court Service (HMCS) website. This website also has a list of all county courts in England and Wales together with their addresses. Most courts' offices are open from 10.00 am to 4.00 pm, although they may close for lunch between 1.00 and 2.00. Whilst court staff are not able to give legal advice about the basis or merits of a particular claim they will be able to advise on the procedure that should be followed and the forms that should be filled in.
The claim forms come with guidance notes on filling them in. It is vital that these are read before filling in the form. It is very easy to make mistakes on a claim form which can then lead to a substantial delay in the claim being resolved.
Once the claim form has been filled in the person bringing the claim, the claimant, must make copies of the form so that there is one for the court and one for each defendant that they are claiming against – as well as a copy for themselves. All of the copies, other than the claimant's, must then be handed in at the court.
Issuing a Claim
Once the claim form has been filled in it is lodged at court and the claimant will have to pay a fee to issue the claim. The cost of issuing a claim depends on its financial value. For cases falling within the small claims financial limits the following fees apply (as at May 2008) when issuing a claim
at a county court
office counter. If the amount claimed is:
Up to and including £300 - £30;
Over £300 but not more than - £500 - £45;
Over £500 but not more than £1000 - £65;
Over £1000 but not more than £1500 - £75;
Over £1500 but not more than £3000 - £85;
Over £3000 but not more than £5000 - £108.
People on some benefits or whose income falls below a certain level may be exempt from paying the fee to issue a claim. The court staff should be able to help if this is the case or, alternatively, more information can be obtained from the HMCS website.
You might also like...
We removed my Father from care home, they have made up charges and say we have to pay or they will take us to court. The amount is around £2500 and they have kept my mothers deposit, they were suppose to pay it back. They have a very bad reputation and we don't know what to do.My Husband is a pentioner and I am disabled who can help us? regards Shirley
Dumpling
- 12-Dec-16 @ 6:03 PM
Can I use the online claims procedure to claim against a letting agent whose services we have stopped and who has retained two months rent and not passed it on to us as landlords ? The tenant informs us that the rental was paid to the agent.
stubiedo
- 14-Mar-16 @ 3:27 PM
we took out a contract for ipad and mobile for my daughter at £66 monthly after a major fall out police involved she will not return the devices the contract has 11months left and her last payment was 3months ago police did ask for item back to which she said it was a gift and then anyway i paid month in advance we have text messages from her saying that 1 money for 2 months has been paid into our bank never arrived ?? 2 that she tookout the contract with us and will honour her commitment is this enough evidence to make a claim through small claims or should we try another way first we are not allowed to make verbal contact
petenaud
- 25-Jan-16 @ 10:15 AM
aggiiiie - Your Question:
Helo can I make claim if my seller of the house we were buying pulled out and we already paid search fees and home buyers survey.now we have to pay again by buing another house plus we need to go in rented for 6 weeks ?? anyone had similar experience what we could do. thanks
---
Our Response:
I'm sorry to hear this, it is every house buyer's worst nightmare. However, there is no official agreement until the contracts are exchanged. Some buyers have had the same experiences but to the point where the sellers have dropped out on the day of exchange (and this goes for buyers also). I'm afraid it means there is no recourse to claim.
AboutSmallClaims
- 20-Nov-15 @ 12:07 PM
helo can I make claim if my seller of the house we were buying pulled out and we already paid search fees and home buyers survey ...now we have to pay again by buing another house plus we need to go in rented for 6 weeks ?? anyone had similar experience what we could do... thanks
aggiiiie
- 19-Nov-15 @ 4:35 PM
Can I make a claim in the small claim court from Spain for a person that is now in the uk?
Nit
- 25-Mar-14 @ 2:38 PM
I understand that the maximum claim has risen to £10,000. Is this so? I wish to make a claim for £8000. What would the court fee be please.
OZZY
- 9-Dec-13 @ 3:20 PM