Introduction to the Small Claims Court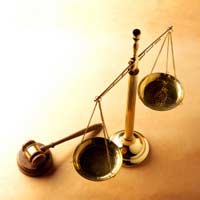 The courts can be frightening places. Populated by people wearing wigs and strange clothes, they are clearly no place for ordinary people. If a case goes to court the costs involved can easily outweigh any potential financial gain. The rules governing hearings are difficult to understand and may often be written in Latin. The only people who can issue a court claim are those who have so much money that they can afford to pay for expensive lawyers and will not be bankrupted if they lose...
People may assume that all of the above is true. However, whilst it may be true that going to court is a serious step that should not be taken lightly, real efforts have been made to ensure that ordinary people have access to justice.
The Early Days
In 1973 a new simplified procedure known as "small claims arbitration" was introduced to the county courts. Originally limited to claims of up to £100 in value, the new system was popular and over the years the value of claims covered by the system was increased.
The Civil Procedure Rules
In 1998 the Civil Procedure Rules (CPR) came into force. The CPR introduced new rules of procedure in the civil courts but also consolidated many pre-existing rules that had previously been contained in different sets of legislation. The CPR simplified the rules governing civil law hearings by incorporating most of them into one piece of legislation.
The very first rule of the CPR is known as "the overriding objective". This rule states that the principal purpose of the CPR is to ensure that cases are dealt with justly. The rule goes on to say that dealing with cases justly includes, amongst other things:
Ensuring that all parties are on a level playing field;
Dealing with cases in a way which is proportionate to the amount of money involved, the complexity of the case and the relative financial position of each party; and,
Dealing with cases expeditiously and fairly.
The CPR states that every other rule it contains should be exercised in a way which gives effect to this overriding objective.
The CPR and Small Claims
The CPR introduced a new small claims procedure, known as the small claims track, which replaced the earlier small claims arbitration system. Most straightforward claims with a financial value of up to £5000 will now be dealt with on the small claims track. (However, different financial limits apply to personal injury claims and claims by tenants against their landlords in relation to disrepair of a property.)
The special rules which apply to small claims trials can be found in Part 27 of the CPR. The main differences between a small claims trial and other trials are:
For most cases the financial value of the claim is up to £5000;
The amount of costs that can be recovered is very limited;
It is simpler to prepare for a small claims trial than for other trials;
Strict rules of evidence do not apply and the use of expert evidence is restricted;
Parties may be represented by a lay person who is not legally qualified.
What Sort of Disputes Can be Dealt with at a Small Claims Trial?
Small claims usually involve cases where somebody is owed money by another person. Providing the amount of the claim comes within the financial limits imposed by the CPR and the case does not involve any particularly complex areas of law these may include claims arising out of:
Road traffic accidents;
Reclaiming unfair bank charges;
Unpaid rent;
Poor workmanship;
Failure to supply goods which have been paid for or faulty goods.
Where Can I Find a Small Claims Court?
Although people often refer to the "small claims court" there is, in fact, no separate small claims court. Small claims cases are dealt with in the same county courts as all other hearings, with most small claims being dealt with by a district judge. A person starting a small claims case does so in just the same way as any case is started – either online or at their local county court. It is only later in the process, if a case is defended, that it will be allocated to the small claims track if it satisfies the criteria.
You might also like...
can a claimant in small claims proceedings add new claims?
VEER
- 23-Feb-21 @ 10:02 AM
On 3 September I cancelled an order for a bike from Evans Cycles due to failure to supply. Despite several emails they have failed to repay the amount of £1204.99 paid in advance on 29 July. They initially made several excuses but now are just not replying. If I take this through small claims will I recover my fee and possibly interest?
Nick - Your Question:
If a small claims dispute is about bad workmanship - a garden wall - can the small claims hearing take place at the premises so that the judge can see the wall for himself?
---
Our Response:
No, photographs would be used for evidence in court in order to highlight the issues in question.
AboutSmallClaims
- 10-May-16 @ 10:25 AM
If a small claims dispute is about bad workmanship - a garden wall - can the small claims hearing take place at the premises so that the judge can see the wall for himself?
Nick
- 9-May-16 @ 10:54 AM
swaffhamtradecars2014]on Ebay.Advertising used vehicles for sale by way of classified adverts.DO NOT buy ANY vehicle from the above rogue dealers.They sold us a vehicle and delivered it later than agreed and the vehicle turned out to be unfit for purpose from day of delivery.Agreed to repair vehicle and return,that was over 12 months ago now.Now,refuses to refund and also refused to return the vehicle as well.These people cannot be trusted and the adverts they use on Ebay are worded so as to "hook" a victim just like us.Ebay are not interested in our problem and still allow them to advertise.They start a new business after 12 months or so then,end that business,and set up again under a different name.These hooks are very experienced con artists and have previous convictions going back to 2002 for the same issues we have with them.They have recently set up a "new"business and,have used an employee as the new owner on the companies houses website which gives details of all new businesses details.The problem is,they know how to "work the system"and then get out of it before it catches up with them.
tap loader
- 20-Apr-16 @ 8:58 AM
where can I find the online application form for small claims to print out
Jorge
- 10-Apr-14 @ 10:21 AM
I got bitten by a dog for the fourth time last week whilst at work it not only caused bruising and swelling but now I am petrified of dogs and panic when one comes near me I physically can't do my job and worry about encountering a dog each time please help.
WHERE CAN I FIND THE ONLINE APPLICATION FORM FOR SMALL CLAIMS.
Hi I am Oed a Sum of Monies, 900 Euros For The Provision of Training On Manual Handling and forklift training I have Sent Numerious Emails Invoices Letters and Phone Calls No Luck Can you Help Me Regards mike
FTI
- 14-Sep-12 @ 2:27 PM