Preparing Evidence for a Small Claims Trial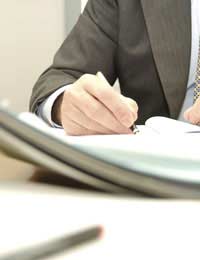 The strict rules of evidence which apply to most court proceedings do not apply to small claims cases. Once a claim has been allocated to the small claims track it is governed by the special rules that apply to small claims contained in Part 27 of the Civil Procedure Rules (CPR).
Directions in Small Claims Cases
After a case has been allocated to the small claims track the court will send the parties a notice telling them how to prepare for the trial. The standard directions for small claims trials are as follows:
All parties must send to all other parties and to the court copies of all documents on which they intend to rely at trial – usually by no less than 14 days before the hearing;
The originals of the documents should be brought to the trial.
The directions will also specify the time and date of the trial and an estimate of how long it will take. The directions are unlikely to require that evidence be provided in witness statement form.
Special directions apply in certain types of cases, such as those arising from road traffic accidents, and the judge can add any directions that he thinks are necessary.
Preliminary Hearings
The court may decide to hold a preliminary hearing in a small claims case. A preliminary hearing may be necessary if special directions are required for the trial. If the parties, or one of them, has indicated in their allocation questionnaire that they intend to use expert evidence a preliminary hearing may be necessary to discuss this issue.
A preliminary hearing may be used as the final hearing of the claim if the parties agree to it being used as such or if either party's case appears to be hopelessly flawed.
Filing and Serving Evidence
Courts often order parties to file and / or serve a document by a particular date. Filing means that it has to be lodged at court and serving means it has to be given to the other party. If documents are filed or served by first class post they must be posted two days before the date given in the order.
What Constitutes Evidence?
Evidence comes in many forms. This may include:
Invoices, correspondence, contracts, statements of account and other documents which support the case;
Oral testimony given during the trial;
Witness Statements;
Photographs – these are often used in road traffic accident cases to help the judge picture the scene;
Experts' reports.
Expert Evidence
In a small claims case expert evidence cannot be used at the trial unless the court has previously given permission. Expert evidence is rare on the small claims track because the cases are usually straight forward and because the cost of an expert may be disproportionate to the value of the claim. If expert evidence is used the costs that can be recovered are limited to £200 for each expert.
Witness Statements
Whilst there may be no formal requirement for a party to give evidence in the form of a witness statement it can save time and help the court to understand that party's case. However, if a party does intend to rely on a witness statement they will have to give a copy of it to the other side.
Conduct of Small Claims Trials
Part 27 of the CPR states that the court can conduct the final hearing in any way which it considers to be fair. Different judges have different approaches to small claims trials but judges are also likely to take into account the nature of each case when deciding how to conduct the final hearing.
It may be that the judge's approach is similar to an inquiry into the facts or he may adopt a more traditional approach if both parties are legally represented. Parties may be allowed to give evidence without taking an oath. The judge may limit cross-examination of parties or even question them directly himself. The priority will be to provide the most appropriate forum for each case and the parties involved.
In a small claims case either party can request that the court decide the claim on the basis of their written evidence alone by writing to the court not less than 7 days before the hearing.
The Weight of Evidence
Although the strict rules of evidence do not apply it should be borne in mind that it is up to the judge how much weight he gives to evidence which is either unchallenged, such a witness who does not attend for cross-examination, or is of doubtful value, such as hearsay evidence.
You might also like...
I had a consumer complaint with an electrician for poor workmanship. My attempt at trying to reach a resolution failed. I informed the trader I was left with no alternative but to seek a refund via the small claims court. He then made a false report of harassment to the police. I had to make an official police complaint to get the harrassment accusation dealt with due to needing a clear enhanced DBS for my career. I have started small claims proceeding the electrician is filing a defence and making a counter claim. In the court documents sent to me it says send a copy of my defence to all parties. My question is can this electrician then make another claim against me for harrssment? Thank you for your help.
Princess22
- 14-Oct-17 @ 8:02 AM