Get Legal Representation in a Small Claims Hearing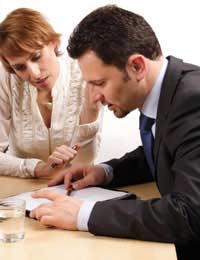 The rules on costs in small claims cases mean that parties do not usually consider getting legal representation for the final hearing. In most court hearings the winning party can recover their legal costs from the other side. The purpose of the small claims track is to give ordinary people with straightforward claims access to the legal system without the risk of incurring substantial costs.
Small claims hearings are informal and are not conducted in accordance with the strict rules on evidence. The procedural timetable leading up to a small claims hearing is usually very simple and there is no requirement to prepare witness statements or any complicated legal documents. Small claims cases rarely involve any significant legal argument and tend to turn on their facts. Most judges adopt a pragmatic approach to the hearings, allowing parties to discuss the claim in a natural way.
Representation at Small Claims Hearings
Small claims hearings are governed by Part 27 of the Civil Procedure Rules (CPR). This is supplemented by a Practice Direction which gives further guidance on the conduct of these cases. The Practice Direction states that a party in a small claims case may represent himself, or be represented by a lawyer or by any non-legally qualified person. The assumption is that parties will represent themselves at small claims hearings - and that they should not be at a disadvantage if they do so.
Legal Aid
People on low incomes or benefits may be entitled to free help under the legal help scheme. This is not likely to cover representation at the final hearing of a small claims case. However, getting legal advice and assistance in preparing the case from a trained lawyer will undoubtedly help a litigant in person to present their case at a small claims hearing.
Getting Legal Advice
There are many organisations which offer free legal advice. Many of these will be able to offer practical assistance, as well as legal advice, to those who have a small claims case. The Citizens Advice Bureau (CAB) specialises in offering advice through its website and its nationwide network of Bureaux. Community Legal Service Direct (CLSD), now known as Community Legal Advice, may offer advice over the telephone or direct callers to a lawyer in their area.
Depending on the type of claim there are many other places where advice can be found. Consumer rights groups, insurance companies, trade unions and professional bodies may all be able to offer advice to an individual contemplating a small claims case.
Finding a Lawyer
Both CAB and CLSD can provide a list of local law firms who deal with the area of law which the claim involves. It is possible that some law firms will offer to provide legal representation at small claims hearings for a fixed fee (rather than an hourly rate). If a party really feels that they are not up to the job of representing themselves it may be worth contacting several firms to see if any of them would be prepared to offer this service.
Is Legal Representation Always an Advantage?
There is no question that courts can be intimidating places and that lawyers are more at home there than most people. However, this does not necessarily mean that an individual representing themselves is at a disadvantage if the other side has legal representation. Indeed the small claims court is designed to accommodate parties who are neither legally qualified nor have legal representation. There are several reasons why a party representing themselves might even be at an advantage:
If one side has legal representation and the other does not, the judge - whilst remaining impartial - is likely to try to give the unrepresented party additional assistance to ensure that the parties are on an equal footing.
Judges are likely to be much stricter with a legally qualified representative than with a lay person. Lawyers are supposed to know what they are doing and judges will give them much less leeway than they would a litigant in person.
If a party does have legal representation it is likely that the person representing them at the hearing will not have spent weeks preparing the case. It is far more likely that they will be a young or relatively inexperienced lawyer who may have only received the papers a few hours before the hearing.
An individual representing themselves will, hopefully, know their case inside out by the time of the final hearing.
You might also like...